Dry meets Cheap Trick!
read more...


---
Tom Petersson Of Cheap Trick Plays One Of Jim's 12 String Basses And Loves It
The Bass Is Now On Tour With Cheap Trick

On July 6th Jim Morgan helped set-up and adjust some of Tom Petersson's 12 string basses prior to the show. Jim said, "What a fun experience that was to set-up 12 string basses for "The Inventor of the 12 String Bass" and besides Cheap Trick is my favorite band". Jim had a chance to meet with Tom and ask him how he liked his basses set-up and what he prefered. During the discussion Jim asked Tom if he had a chance to play the shorter 32" scale basses that Waterstone Guitars build (standard scale is 34"). Tom said he didn't like to play the shorter scales live but admitted he hasn't really tried them. Jim said, "I convinced him to play my new red sparkle 12 string bass and he fell in love with it." Tom asked if he could take the bass on tour for a while. Jim said, "After I hesitated for a moment I decided if Tom Petersson "THE INVENTOR OF THE 12 STRING BASS" wants my bass that I set-up for myself that much I should just let him have it to play. I can't think of a better compliment. It is really cool to see pictures of him playing it at other shows".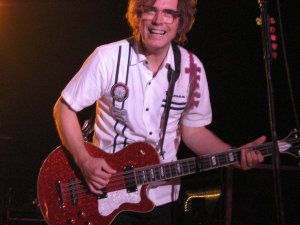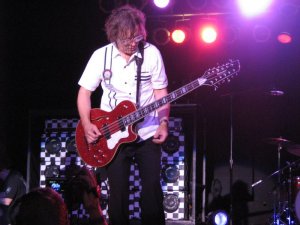 For Dry's first Cheap Trick encounter click HERE.



---
New Live Videos On The Video Page

In November of 2006 Bill Morris owner of Video Media Productions video taped us when we were playing at RPM's in Galesburg. Several songs have been added to our Video Page. Considering it was just a throw together PA mix most of the songs came out pretty good. Thanks Bill! Hopefully we will get Bill back out soon and get some more great live videos.



---
92.7 The Lazer puts "Can't Stop Thinkin' Bout You" in regular rotation.

This summer Dry was offered some free studio time at a recording studio in Peoria Illinois to help promote the studio and give them a demo to use for other bands. Sean quickly wrote "Thinkin' Bout You" for a song to use. The whole recording process went very fast only taking 2 late evenings. Matt Rush recorded, mixed and engineered the whole process and we think it came out great. Dry presented the final mix to the Laser 92.7 FM and they liked it so they put it in their normal song rotation. At this time it is not available on CD but it can be listened to and downloaded on our MP3 Page for free. Thanks 92.7 The Laser!



---
Dry Opens for Enuff Z'nuff at the Monmouth Rivoli Theater.
Jim Gives Chip Z'nuff one of his 12 string basses after the show.

Dry played a show at the Monmouth Rivoli Theater and had the opportunity to open for Vixen and Enuff Z'nuff. Unfortunately the turnout for the show was fairly sparse only about 100 people or so showing up but it was still a fun time. Before the show the band had an opportunity to meet the bands. Chip Z'nuff seen Jim's rack of basses and immediately picked one up and started playing it. Jim told Chip Z'nuff he could use one of his 12 string basses if he wanted to because Chip also plays a 12 string bass sometimes. Chip liked the looks of the Waterstone basses and decided to try it out. He loved the way it sounded and after the show he said he had to have one. Jim decided to give Chip his transparent green bass that he was playing.
Click here to see a short video of Chip checking it out and playing it at the show.



---
Enuff Znuff Drummer Benefit CD Now available At 34 West Records.

The Ricky Parent benefit CD titled "Labor Of Love" featuring many artists including Dry is now available online at 34 West Records, or at Capital Music in Galesburg and also at Dry's live shows. "Might As Well" was the song used on the disc that was originally recorded for the CD "Who Invited Shewie". Dry will sell them at their shows as long as supplies are available. Some artists included are: Jeff Pilson (Dokken, Dio, Foreigner), Russ Parrish-(FIGHT,The Thornbirds, Kevin Gilbert), Jamie Rowe (Guardian), Billy McCarthy (Author-Devil in Shakespeare/D'Molls), Crash Kelly, 40ft Ringo, Sy Klopps Blues Band, Matt Fig, Wade Williams, Ripe, Liberty n Justice, DRY, Crunchy (Monty Colvin-Galactic Cowboys), Trixter (never before released track!), Heaven and Earth featuring Richie Sambora (Bon Jovi) and several more artists. This is a great CD and is for a very good cause! Thank you for your support.



---
Dry's Website Gets a Major Facelift

After about 3 years without any major changes Dry's website finally gets a new look. With many new features such as fast loading music on MP3's that doesn't have to be downloaded to listen to first. Mp3's can still be downloaded and kept in the MP3 page. All of Dry's original music has been added to the MP3 list. A Guest Book has been installed so be sure to sign it before you leave! A nicer photo gallery was also added. New videos, photos be added very soon so check back often!